Lately I've been really into K-Pop. I know what you're thinking, probably something along the lines of: Can you even understand Korean? And the answer is no, but that doesn't stop me from being a fan.
Whoever knows me knows that I'm a huge boy band-aholic , so it was pretty much no surprise that when  my sister sent me a link to a boy band she thought I'd like, there was no doubt I'd end up watching it. I was expecting the band to be a mix of 4-5 British boys since I'm in love with One Direction.
But to my surprise, it was a just a random band singing in a different language that I couldn't understand. It was a video to the Korean band EXO's "Call Me Baby," and it was pretty good. Although I couldn't understand a SINGLE THING, I was blown away at how well-dressed they were and how their choreography was literally on point! However, the best part of the band was the fact that they had 10 members. TEN.
I decided to do my research and as it turns out, Korean bands make American singers look a bit lazy. First off, the whole process of becoming a successful band in Korea is quite different than in America.
It takes them about 4-6 years, and even longer for certain people, to be considered good enough as an 'idol'. 
Many future man members interested in taking a part in a band have to undergo training with a record company of their choice. They start at a very young age and take dancing and singing classes every day for about 3 hours. Based on how well they do, the company decides who is the best fit to be in a boy band.
Most bands have to learn how to sing in different languages.
In order to appeal to a bigger audience, not only do they release albums in Korean, they also sing in Mandarin and Japanese. The reason EXO has 10 members is because they are split into two groups: EXO-K, who sing in Korean, and EXO-M who sing in Mandarin. Using this strategy, not only do they manage to get a bigger audience, but they also end up becoming 10 times more awesome!
Looks play a huge part in a band's career. 
Korean fashion is a whole new world. They aren't shy about styling colors and patterns together, and it's awesome. K-Pop music videos use effects, a bucket-load of make-up, and eye-catching outfits to literally show the audience what they're all really about.
And of course, just like any other pop song, their melodies are extremely catchy. Even though you probably won't understand a word they are saying, the beats to their songs are SO GOOD. Lately, many bands have included sentences and words in English, so it's pretty easy to get a song stuck in your head for the rest of the day.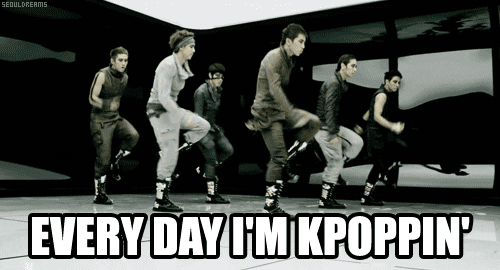 –Gaby Tovar